1 // Raw Food
Since raw advocates, such Tanya Maher, owner of London's new raw restaurant Tanya's, announced that we are slowly poisoning ourselves with our hot food, the food industry has exploded with this 'superfood'. So what's the big deal? Much more than antioxidants, raw food is loaded with live enzymes, micro-nutrients and powerful vitamins that will increase energy, mental clarity and finally make sense of 'vegging out'. Nowhere near as bland, cold or inedible as you could be forgiven for thinking, this foodie fad might just be the one that stays.
Watch out for: raw courgette noodles, raw macadamia-cheese cake and raw lasagne, to name a few, are all the latest in clean, lean, and if you can summon it in you, vegan eating.
---
2 // Locally Sourced Everything
Not just a geographical concept, but a long-needed awareness and effort to build more local, resilient and sustainable food economies – championing your local suppliers has never been more vogue. Be it fish, beef, or purple kohlrabi, you can bet your bottom dollar more and more customers are demanding supply chain transparency, and restaurants are starting to listen. Some even note 40% increase in sales after 'converting' to the good stuff. Trending or not, we think enabling consumers to support local farmers, eat fresher food, and connect with how food is grown can only be a good thing.
Watch out for: committed locavores who'll interrogate your staff. Make sure you're sourcing right, and the whole team's clued up.
---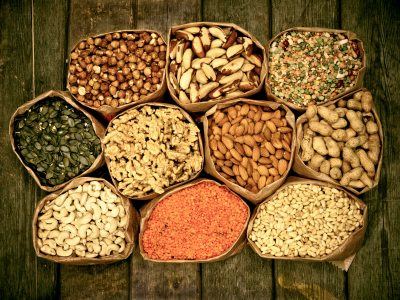 3 // Nuts and Seeds
Cherished by carb-cutters looking for a healthy energy boost, nuts and seeds in all their varieties are on top of the wish list. From the traditional walnut to the new super-seed chia, watch as restaurants and cafes start scattering them into their menu. Keen to start Meatless Monday? Nuts and seeds are the ultimate way to get healthy protein into your menu.
Watch out for: Cobnuts in your bolognese sauce, pumpkin seeds in your porridge and lunchtime sandwiches pumped with brazil nut butter and cashew pesto. Supersedes boring old BLTs, huh?
---
4 // Fancy Comfort Food
Think mac 'n' cheese luxuriating in a rich five cheese cream, baked to bubbling perfection with succulent chunks of lobster, homey chicken pot-pie dashed with the finest black truffles, and your regular lunchtime Panini now madeover with home-blush heirloom tomatoes and oozing camembert. Comfort food has gone upscale and is scaling its way into every café and restaurant around – even Jamie O's on it.
Watch out for: highbrow versions of your home-made favourites. No more egg sandwiches thank you, our food's gone posh.
---
5 // Mash-up Dishes
Cronuts are old news. This year saw sinister minds at work, forging the bronut, the ramen noodle burger and the dessert pizza. Totally bonkers, totally American, and totally going to kill us all – expect 2015 to be the year mutant morsels take over. Try it out yourself, cereal in one hand, cookies in the other and see what happens. Who could argue that happiness is not a Lucky Charms Cookie?
Watch out for: pie-stuffed cake. Not to be confused with cake-stuffed pie.